"Gambia Bayoolu e. V.(registered association)" was founded in August 2018 as a non-profit association by 10 founding members.The Mandika word 'Bayoolu' means orphan and depicts the central topic of the charity, namely offering help for orphaned children.
The 5 members of the managing-committee work on a voluntary basis. At the moment (beginning of 2020) the association is around 15 members strong and includes a growing number of supporters and donors.
Most of the club members travel regularly at least once a year to Gambia to visit friends and family. They also visit the supported orphans and their families and establish contacts to schools and other resident institutions.
1. Chairperson: Mustapha Cham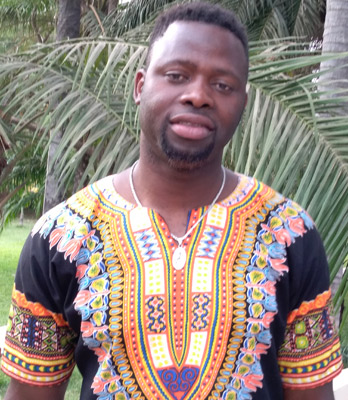 I am very pleased that we have founded Gambia Bayoolu e. V. with a circle of friends and that the members of the association have chosen me as their chairperson. Gambia Bayoolu wants to offer support to improve the living conditions of orphaned children in Gambia.
I was born in Jambur/Gambia and came to Germany in 2015. I grew up in Gambia and have trained as a brick layer there. In my life I have worked as brick layer, taxi driver, gardener, drummer and for a long time I earned my living as employee in a tourist lodge. In Germany I work as fitter in a solar energy company. For a couple of years now I am engaged with the Gambia association in Dortmund and tell people about the bad living conditions in Gambia, especially for orphaned children. I am married and have a son.
2. Chairperson: Inge Hanemann
I am 55 years old, married and have 2 grown-up daughters. I trained as a nurse, have a qualification as social education worker and as alternative practitioner for animals. I work as a practice manager in Bochum. When I travelled to Gambia for the first time in 2017 it became very clear to me that education is particularly important in this country. Without a good school education it is nearly impossible for Gambians – particularly for girls – to develop a perspective for the future which isn't marked by poverty and disease.
Treasurer: Sabine Dominik

I am 56 years old and have 2 grown-up children. I work as an accountant and in my free time I volunteer working with young people. When approximately a year ago I was asked whether I had the time and inclination to work with Gambia Bayoolu I didn't have to think twice. That I became part of the founding group made me very happy. I know how to crunch numbers, it's my job. Many years ago I lived in Senegal for a year and worked in the administration of a holiday club there. I don't know the neighbouring country of Gambia yet but I'm sure I will get to know it soon. I am very much looking forward to it.
Enny Pötter

For many years now I regularly travel to Gambia to get to know the people and the culture there and to offer partial support. Singular assistance isn't very effective in the long run so I am very happy that Gambia Bayoolu can offer longterm support to children, teenager and young adults to help improve their future perspectives. I live in Witten and work as art and social therapist as well as freelance sculptor. In my free time I work with different charity associations. I am interested in art and culture and love to read and travel.
Diana Ochs

When I met Tapha, he talked about his desire to do something for parentless children in Gambia. Since children are very close to my heart, I was happy to support the foundation of the association. I (Jg 1973) have a son myself (*2007), live with my partner and her children (*2014, *2011) as a patchwork family.